Essential Tattoo Aftercare Instructions to Follow in 2023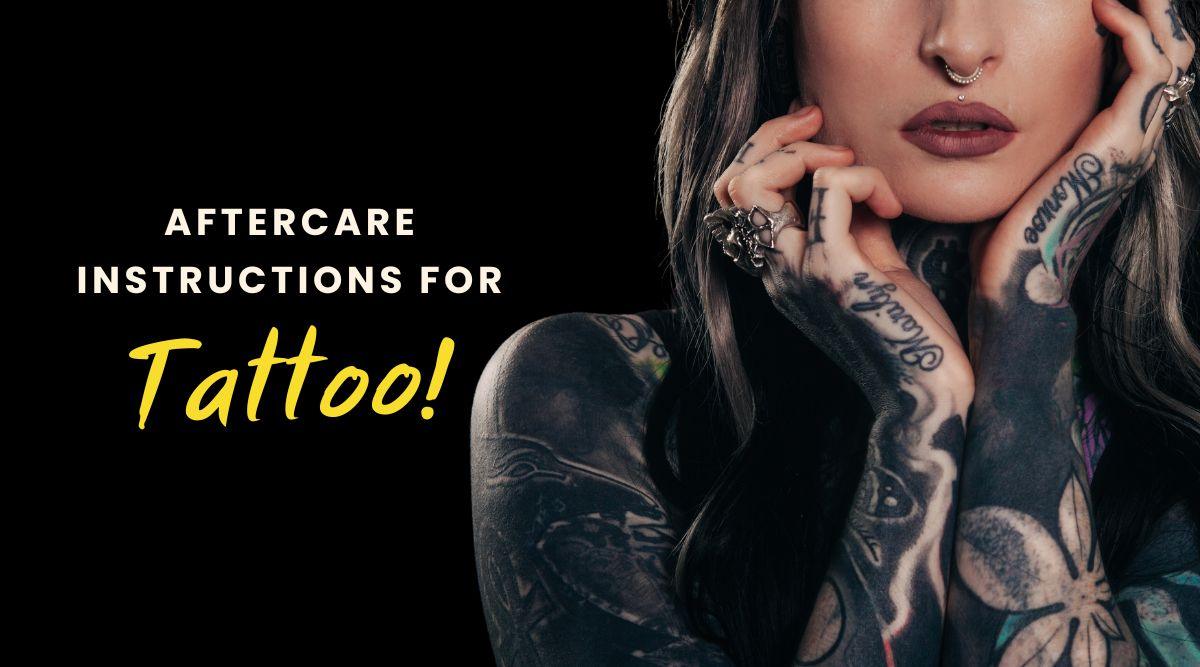 Getting a tattoo is surely an out-of-the-box experience for anyone. After all, you are going to commit to something that is beautiful but in the form of a permanent thing that is inked into the skin. But if you thought that enduring the pain of tattooing is all it takes to get an amazing tattoo, then you are wrong. You must have forgotten that the healing and aftercare part for the tattoo is one of the most important steps to look after if you wish the tattoo comes out great and not infected. So, if you are someone who has just got a new tattoo, read on further to know more about essential and best tattoo aftercare products, how to use them, and everything else.  
Essential Tattoo Aftercare Instructions To Follow:
Keep Your Tattoo Covered During Initial Days 
Your tattoo artist most probably covers your tattoo with a thin plastic film that you will have to remove after a few hours. But if you wish to protect your tattoo, then it makes sense to wrap it up again with a suitable tattoo bandage. We know it is always best to let your tattoo breathe fresh air, but exposing it to sunlight or any touch to fabric or clothing is not safe. This is the reason why covering is important to protect it from any potential damage. Make sure to replace the protective covering at regular intervals. 
Prevent Any Scratch or Rub to The Skin 
As your tattoo healing procedure moves forward, you may feel an itchy sensation on the skin. This is a very normal situation because the skin around your tattoo is healing and adjusting to the new ink. But it's very important to resist the feeling of rubbing or scratching the tattoo or the skin around it. In case the itch is uncontrollable, you can gently pat it with a cool cloth or simply take a cool shower. Also, avoid using scented products on your tattoo as it irritates the skin. 
Keep Your Tattoo Clean But Not Soaked 
A fresh tattoo is a kind of wound. Thus, it is very important to keep it clean in order to avoid any kind of infection. You will need to clean it regularly for an interval of 24 to 48 hours. You can use antibacterial soaps or tattoo aftercare soaps to wash them and then pat dry your skin. Before washing or moisturizing your tattoo with a tattoo aftercare cream, remember to clean your hands. Additionally, don't soak or submerge your tattoo while showering or bathing for a minimum of two to three weeks. 
Don't Ignore The Bubbling Around Tattoo. 
We want individuals to pay attention to tattoo aftercare to avoid any kind of infection or issue. This is why you need to understand the symptoms of infection. Tattoo bubbling is not a normal thing and needs medical attention immediately. Bubbling indicates infection and can cause serious damage to your skin if left untreated. It would help if you did not ignore the early signs of infections for your fresh ink. That's because it will ruin your skin health and tattoo life in the longer term. So, prevention is always better than cure. 
Application of Balms, Ointments, or Moisturizer 
During your tattoo aftercare, the main things that help you are the various tattoo aftercare products. From ointments, and balm, to moisturizing creams, these products help in promoting quicker healing of the skin. The key is to apply a small amount and spread it evenly on your tattoo area. Also, remember that it should coat the tattoo but also be absorbed easily. Finally, don't overwhelm your tattoo with creams or balms, as you can add more moisture when it begins to feel dry or itch. 
Conclusion
: 
So, these are the few most important tattoo aftercare instructions you must follow in your routine. However, remember that your healing and aftercare process will be as unique as your tattoo. Because the bigger the tattoo, the bigger the aftercare responsibilities. For your concern regarding the best tattoo aftercare products, Toochi Tattoos is an ideal place. Here you can get access to a myriad of tattoo aftercare products like balms, bandages, tattoo creams, and more at great prices. Check out the whole selection of products today!