Primary Numbing vs Secondary Numbing in Permanent Makeup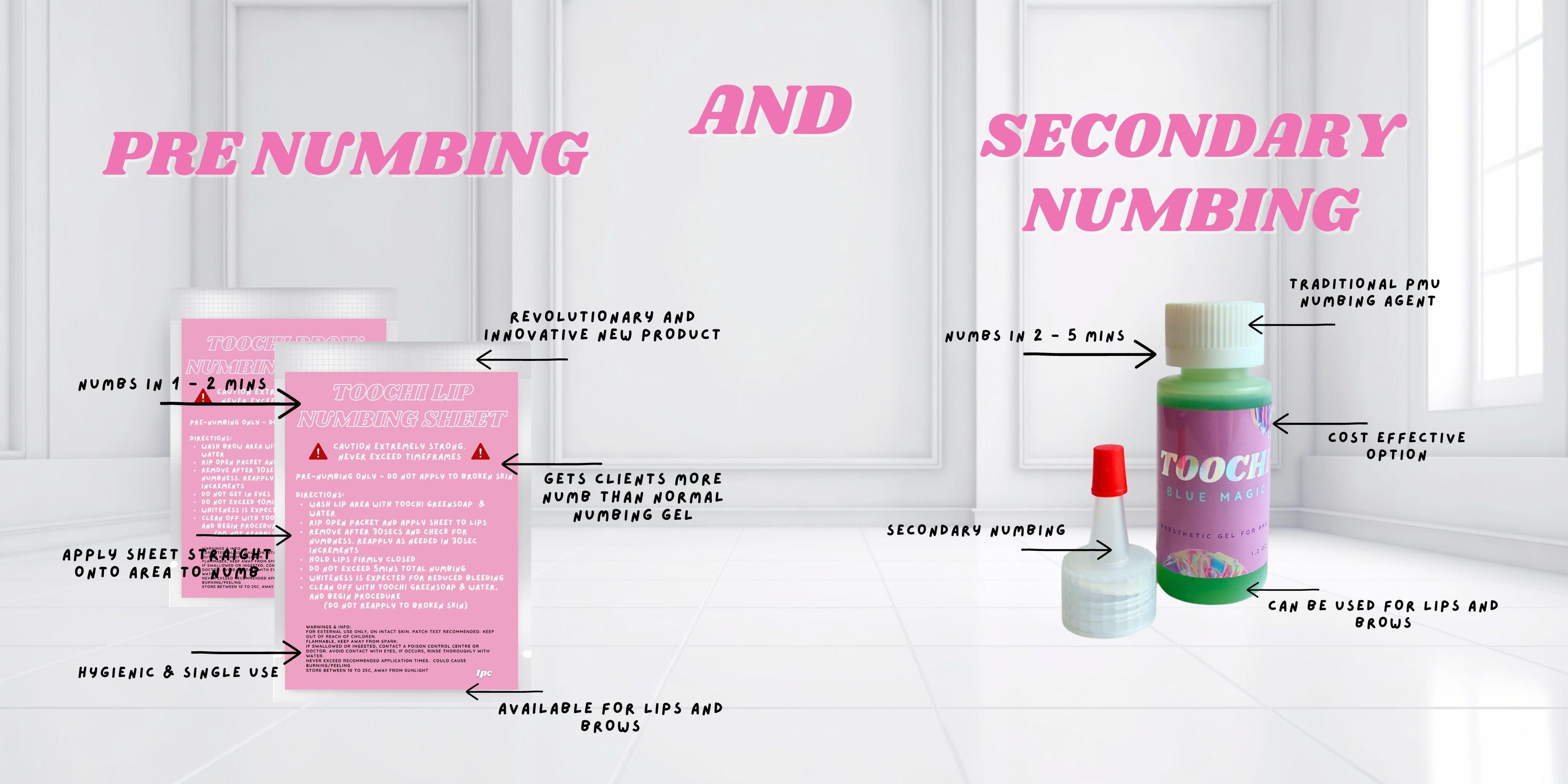 Primary Numbing vs Secondary Numbing in Permanent Makeup - what do they mean?
As an established PMU artist, one of the most common inquiries I receive revolves around the topic of discomfort during PMU procedures. To put your worries to rest, let me clarify this - meticulous pain management is a crucial part of the PMU process. We use a combination of primary and secondary numbing agents to ensure a virtually painless experience. Today, let's explore the differences and discuss the exceptional products I use for numbing.
Primary Numbing: Setting the Stage for Comfort
Primary numbing refers to the first step in creating a pain-free PMU experience. Before we even touch the needle to the skin, a primary numbing agent is applied to the area to mitigate discomfort from the get-go. This topical anesthetic desensitizes the skin, preparing it for the procedure.
And not all primary numbing agents are created equal. For example, when working on eyebrows, I swear by the Toochi Brow Numbing Sheets. These are easy to use, provide excellent numbing, and ensure client comfort right from the start.
Similarly, for lip procedures, the Toochi Lip Numbing Sheets are my go-to. They numb the sensitive lip area efficiently, creating a worry-free canvas for the stunning PMU art to come. They will keep my clients numb from start to finish - (and even longer as they can numb up to 10hours). This is personally my favourite way to complete my procedure, as there is no initial pain. The initial pain for some clients can cause them to get anxious, and is an unessesary part of the process when I have Toochi Numbing sheets on hand.
Secondary Numbing: Maintaining the Calm
While primary numbing serves as the first line of defense against discomfort, and is applied before the procedure begins, secondary numbing can also play an important role. But what does secondary numbing mean?
After the skin has been initially broken during the PMU procedure, a secondary numbing agent is applied. This agent works differently compared to primary numbing as it can only penetrate into the skin to numb the area once the skin is broken. It is a gel that is applied for 1 - 5 mins and then removed.
Here, the star of the show is the Toochi PMU Numbing Gel. This secondary numbing powerhouse works its magic during the procedure, ensuring clients stay relaxed and comfortable.
Secondary numbing agents are great for PMU artists looking to save costs on numbing products - as they come in a reusable bottle, they are cheaper overall for the artist who has to provide them.
A Special Mention: Microblading
While we're on the subject, let's address a common question - What is the secondary anesthetic for microblading? Microblading, a type of PMU that creates natural-looking brows, also involves both primary and secondary numbing. After applying a primary numbing agent like Toochi Brow Numbing Sheets, I typically don't need to use a secondary numbing gel as they are so effective.For the Artists that don't pre numb then Toochi PMU Numbing Gel is an excellent choice for a secondary PMU Numbing agent which provides a virtually pain-free microblading session.
Conclusion: The Art of Comfort in PMU
The journey of PMU is not just about the end result but also the experience. A huge part of that experience lies in ensuring your comfort. The strategic use of primary and secondary numbing, with reliable products like Toochi's numbing sheets and gel, is key to this.
Remember, beauty doesn't have to be painful. In the hands of a skilled PMU artist, and with the right numbing products, your journey towards enhanced beauty can indeed be a comfortable, pleasant experience.
Get in touch for any extra information you may need.
Written by a Leading PMU Artist in Australia on behalf of Toochi Tattoos