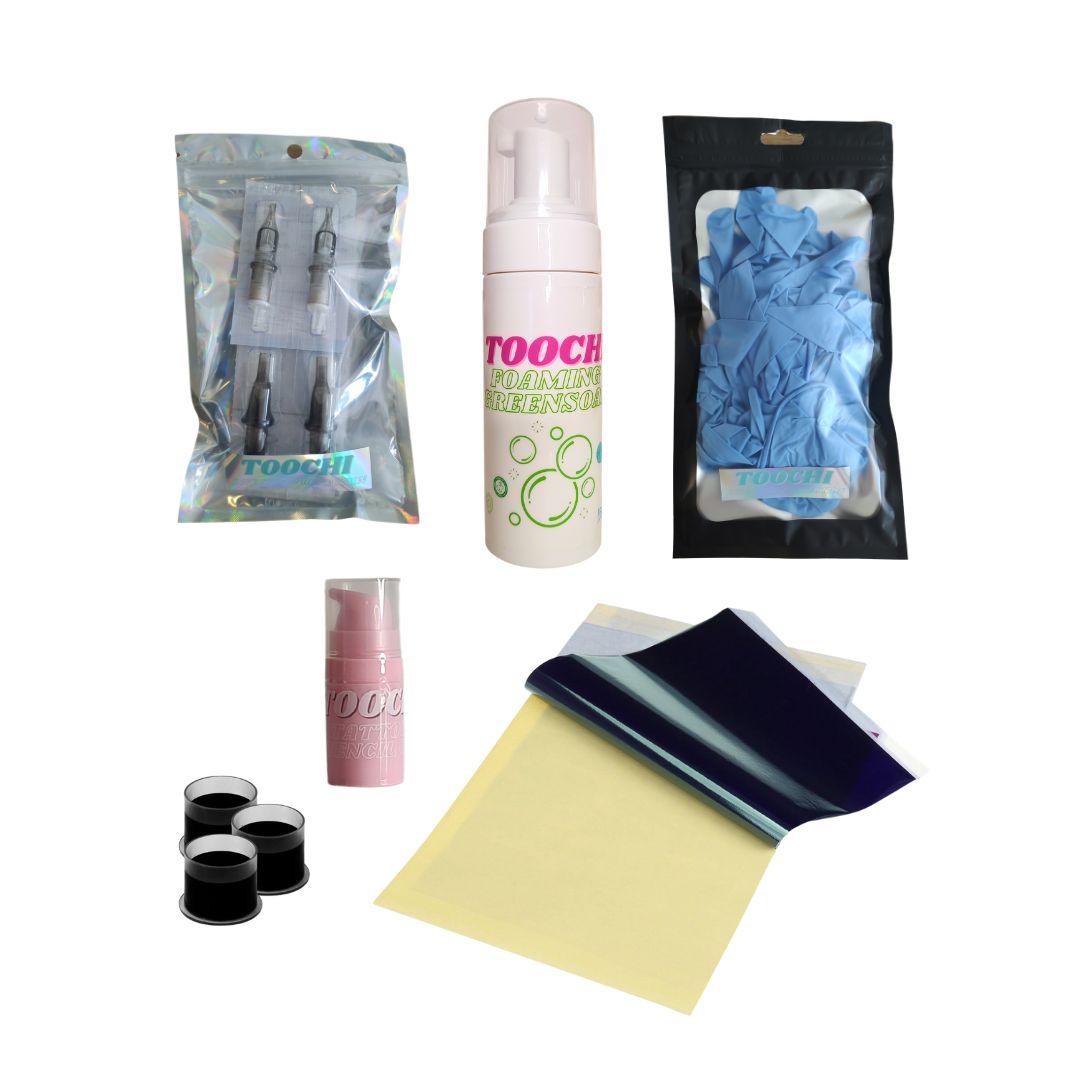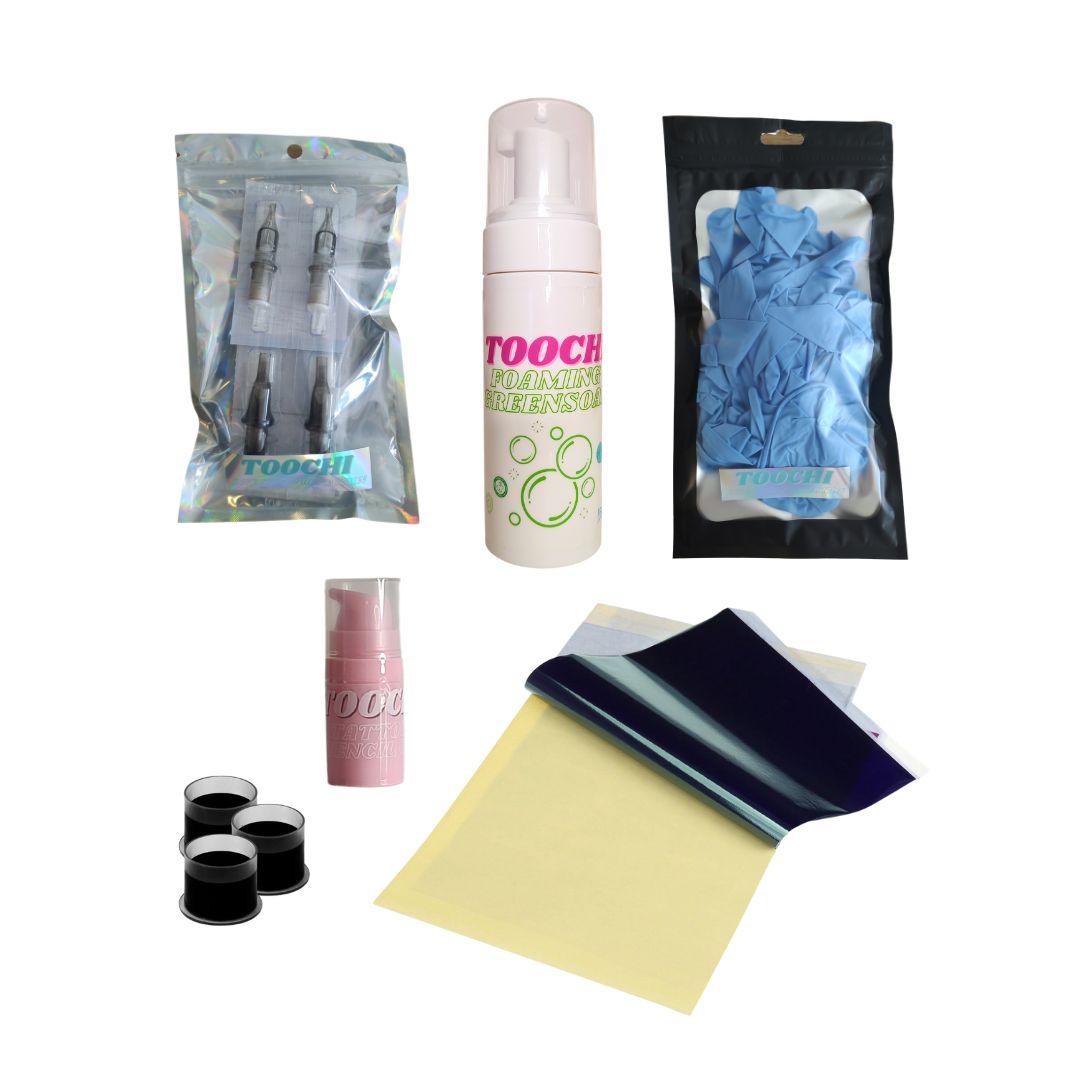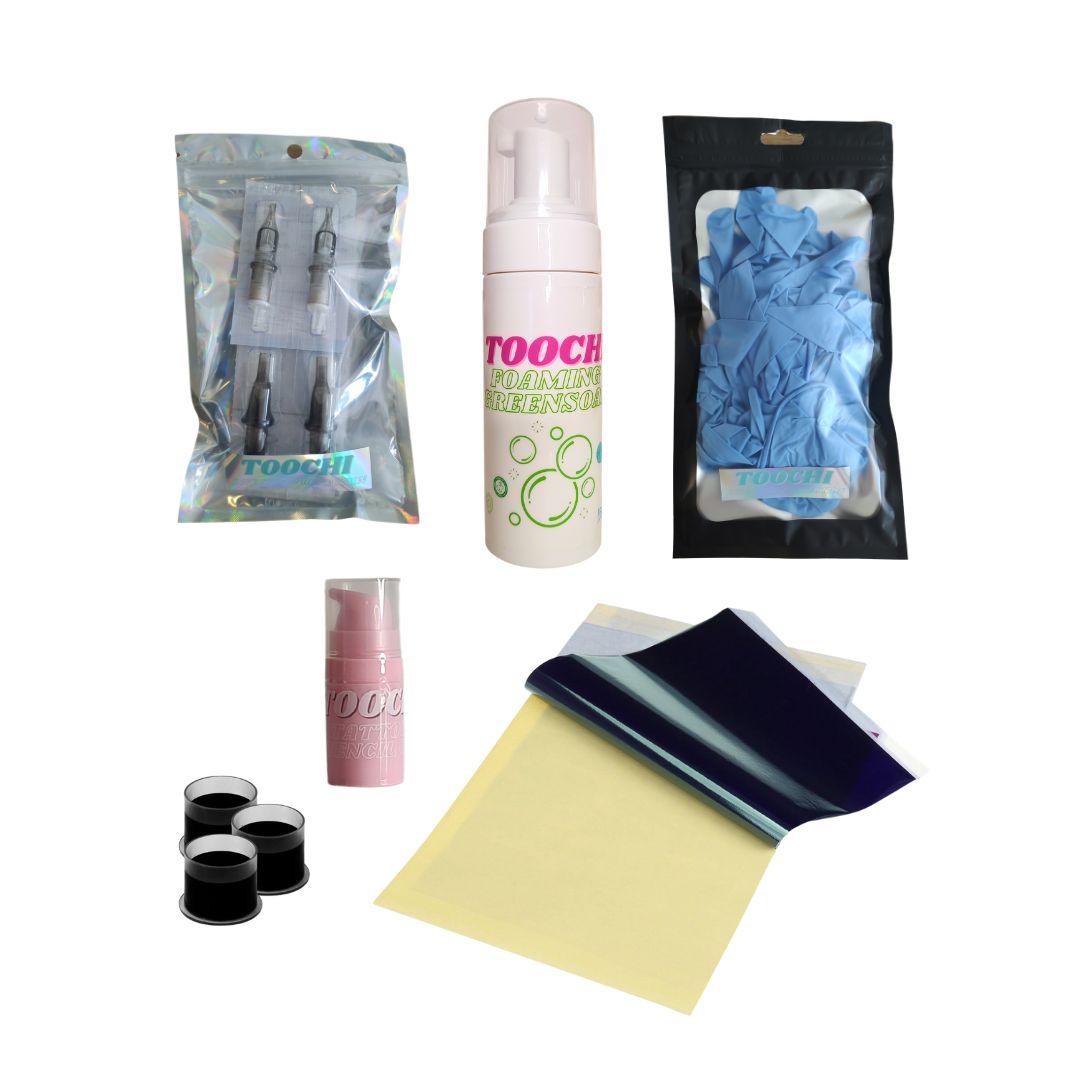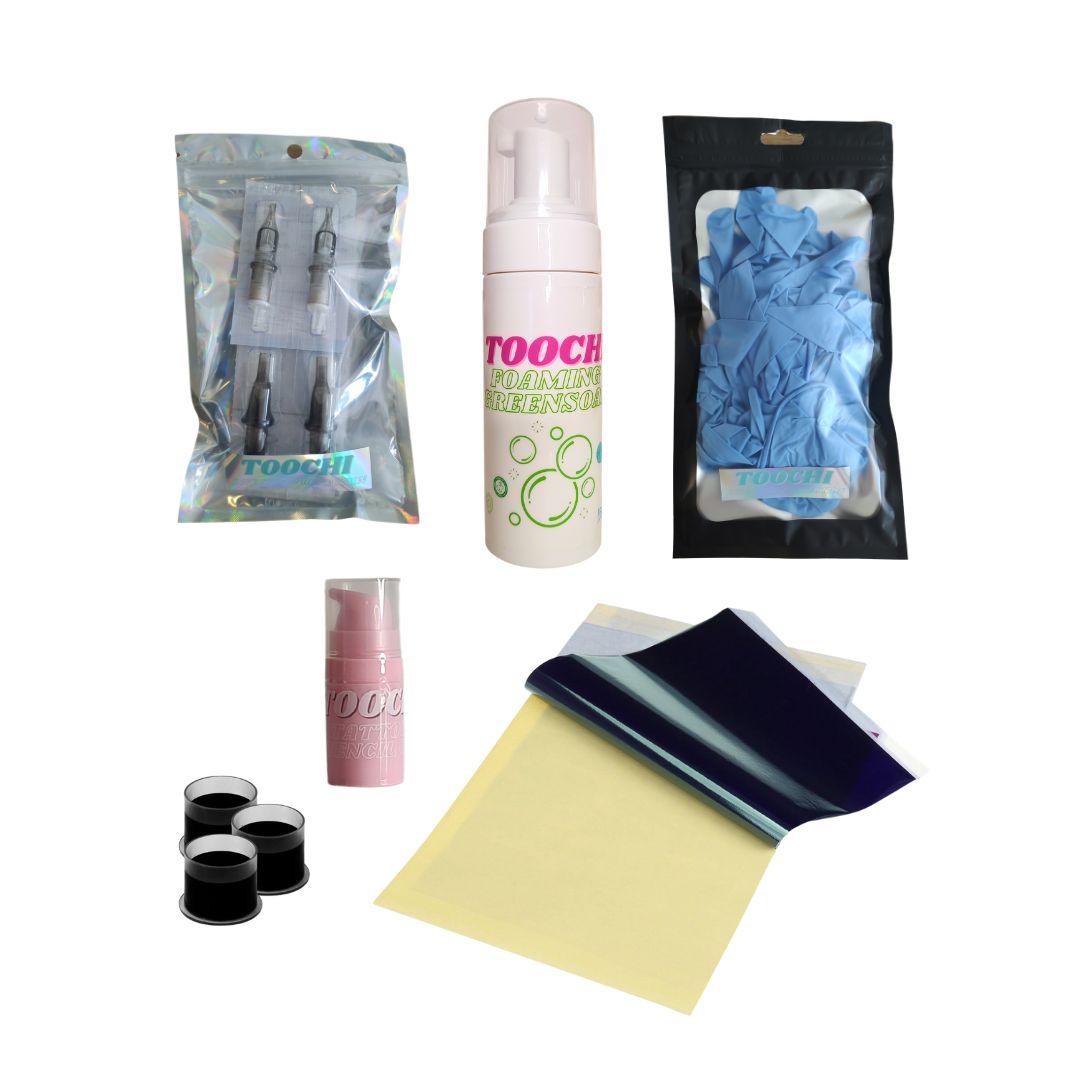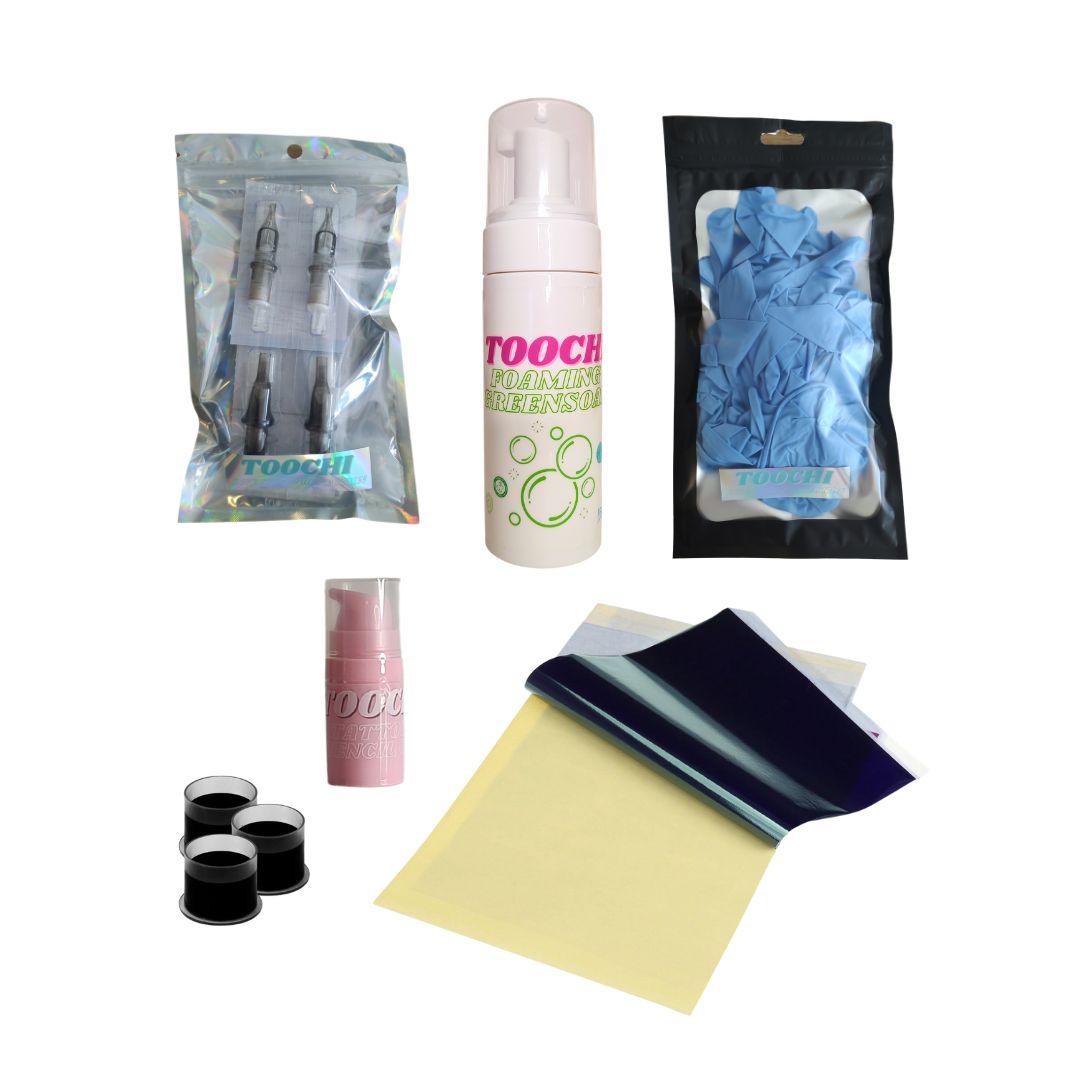 Toochi Tattoo Kit
Immerse Yourself in the Art of Tattooing with the Toochi Tattoo Kit
Enter the exhilarating world of tattooing with the Toochi Tattoo Kit, a comprehensive set meticulously designed for aspiring tattoo artists. It's more than just a kit; it's the first step towards mastering an art form that has been revered and celebrated for centuries.
Encased within this kit is not just equipment but an opportunity to ignite your passion, to explore your creativity, and to imprint indelible marks of art that go beyond skin-deep. Toochi Tattoo Kit isn't merely about inking; it's about making statements and creating stories that last a lifetime.
Key Features:
Tattoo Pen: Tuff King Tattoo Pen. Wireless and rechargeable, this pen has a built in battery and is a C Type rechargeable tattoo pen. Meaning you simply charge and go - for up to 8hours. The future in technology - this pen will take you from novice to pro.

Mixed Pack of 10x Needles: Offering a variety of needles ensures versatility in your artwork. This mixed pack gives you the flexibility to achieve different styles, from intricate line work to bold shading. Pack includes RL, RS, M & CM. A great way to test out different needles and will help you know which to reorder more of.

5-Pack of Gloves: Prioritize safety with a 5-pack of gloves that offer maximum protection while ensuring dexterity. Create masterpieces while maintaining impeccable hygiene standards.
Toochi Foaming Greensoap: Cleanse, soothe, and nurture the skin with our Toochi Foaming Greensoap. It's designed to keep the skin in optimal condition during the tattoo process.
2x Stencil Paper: Craft your design with confidence. Our premium stencil paper ensures the smooth transfer of your stunning designs onto the skin, setting the foundation for an exquisite piece of art.
Stencil Gel Sample: Small sample size Toochi Tattoo stencil gel.

10x Tattoo Ink Cups: Tattoo Ink cups pack of ten to get you started.

Whether you're looking to start a thrilling career or to explore a new hobby, the Toochi Tattoo Kit is your gateway to an immersive artistic journey. This kit is a great option and step above the normal 'tattoo kits' on the market in NZ - with high quality equipment and supplies.

We've included the basics to get you started, here are a few extras you may need:
- Tattoo Ink, Practice Skin, Hygiene/barrier protection, glide etc.

The world of tattooing awaits you, and the Toochi Tattoo Kit is the perfect place to start!
More info on the Tattoo Pen:
Tuffking Wireless Tattoo Machine

Tuffking's new generation of wireless battery pen adopts customized high-performance coreless motor, aluminum alloy material structure, hard-anodized surface, reliable and durable; new upgrade of circuit hardware and software algorithm, more accurate and fast voltage regulation.
OLED high-resolution display, rich and clear display content; with charging over voltage protection, card pin protection. Output short circuit protection.

Product model: Tuffking
Size: 12.5 x 3.2 cm
Weight: 175g
Output voltage: 4-12V, 0.1V adjustment
Motor: Coreless motor/12V-12000RPM
Display screen: OLED-0.78 inch
Battery capacity: 1500mAh
Working time: about 8 hours/8V
Charging time: about 2.5 hours
Charging interface: TYPE-C/5V/2A
Stroke: 3.5mm
Compatible with all standard tattoo cartridge needles
1x Tuffking Tattoo Pen


1x USB-C Fast-Charging Cord

1x Box for storage

Shipping Info
Our warehouse is in Christchurch, New Zealand. We ship every business day and our shipping takes on average 1-2days around NZ (check our reviews to see what our customers say!)
We ship worldwide - shipping is approx 2 weeks to most countries!
Get in touch with any questions, or to follow up with any queries on your order.